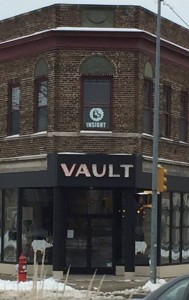 We love what we do so much here at Insight Counseling & Wellness that we want to do more of it. That's why we grabbed another suite in our lovely old building — so that we could expand our office operation and add another bright, interesting therapy room to accommodate the needs of our clients. Stay tuned for more pictures once we do a little decorating, but here's a picture of what it looks like from Schenk's Corners.
So, besides the interesting location, why would anyone want to choose Insight? Well, consider the following:
We tailor our therapy to the individual needs of each person, couple or family we see
We have years of experience helping people heal
We empower people to take an active role in their health and wellness
We are continually expanding our knowledge base through high-level trainings and consultations
We understand your busy schedules and offer appointments in the early mornings, evenings and weekends
We have a pretty good selection of hot tea that's free to enjoy during your session
We take pride in making everyone we serve feel welcome, safe and supported
Stop by or call us at 608-244-4859 to set up a free 15-minute consultation. We're here to help you get your future in sight.
[fblike]