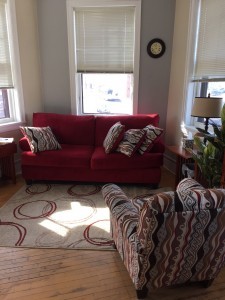 Here are Insight, the health and wellbeing of those we serve is our highest priority. We really like to work toward that goal in a cozy, welcoming space. It's our thrill to announce an addition to our office space at 2002 Atwood Ave.
Here's a picture of our new corner suite. Our clients will still gather in Suite 217, and from there, their therapist will meet with them to take them to the room where their session will occur. All of our rooms are welcoming, safe and set up to support the needs of those we help.
If you're thinking about seeking counseling, yoga therapy, dance/movement therapy or health coaching, please give us a call or email us. We offer free 15-minute meet-and-greet appointments if you'd like to see our space and get to know our therapists.